1. Eventleaf
Overview
Eventleaf is a simple yet versatile event management platform suitable for both virtual and in-person events. Its comprehensive suite of features allows organizers to handle registrations, send out invitations, create detailed event agendas, and much more.
Key Features
Customizable event website: Design a branded website in minutes to register attendees, sell tickets, and communicate event details.
Badge printing: For physical events, Eventleaf offers on-site badge printing before the event as well as on site...
Mobile apps: Eventleaf sports a suite of mobile apps for attendees, managers and exhibitors. Attendees can download the Eventleaf Guide app to check the event schedule, speaker details, and engage in networking opportunities. On-site staff can use the Check In app to check attendees in to and out of the event, and exhibitors can collect leads by installing the Leads mobile app.
Ticketing and payments: The Eventleaf platform offers integrated payment processing through PayPal and major credit and debit cards. You can even collect payments at the venue using the Check In app.
Event agreements: Make it essential for attendees to acknowledge or sign health and safety agreements, security agreements, NDAs, and other important terms and conditions when they sign in to the event.
Pros
Eventleaf's interface is user-friendly, reducing the learning curve.
It provides a good blend of features for both online and offline events.
The pricing model is affordable, catering to both small and large events.
Cons
The platform might lack some advanced virtual event features offered by specialized platforms.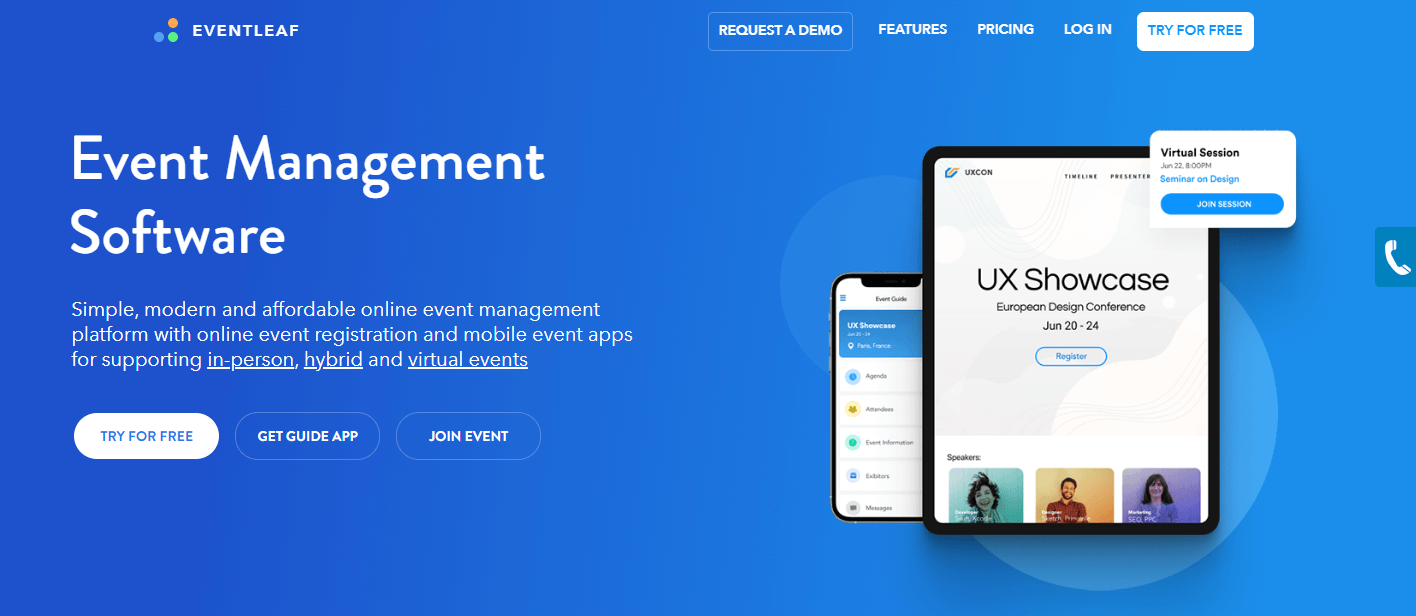 2. Cvent
Overview
Cvent is one of the giants in the event management industry, known for its robust set of tools tailored for events of all sizes, from small workshops to large conferences.
Key Features
Event website creation: Build custom event websites without any coding knowledge.
Survey tools: Gather feedback with integrated survey tools.
Email marketing: Send out mass emails to attendees with updates, reminders, or promotional content.
Mobile event apps: Attendees can access event information, participate in polls, and network via the Cvent mobile app.
Pros
Comprehensive analytics and reporting tools offer deep insights into event performance.
Integrations with a plethora of software and tools make it versatile.
Known for its high-security standards.
Cons
Due to its complexity, the learning curve can be steep.
Pricing might be on the higher side for smaller events or businesses.
3. Whova
Overview
Whova is an award-winning event management platform that emphasizes attendee engagement and networking, making it ideal for conferences and corporate events.
Key Features
Networking opportunities: Attendees can view each other's profiles, send messages, and set up meetings.
Interactive event agenda: Allows attendees to create a personal agenda, set reminders, and take notes.
Exhibitor features: Exhibitors can showcase promotional videos, e-brochures, and even run contests.
Engagement analytics: Understand how attendees are interacting with your event.
Pros
Whova's main strength is its focus on attendee engagement and networking.
It offers a range of promotional opportunities for sponsors and exhibitors.
It supports both virtual and in-person events.
Cons
While networking features are robust, the platform might lack some advanced customization options.
Whova pricing is not publicly available and might be on the higher side.