Types of Eventleaf Reports and How to Use Them
To access reports, select your event and click on the REPORTS tab. Click on Dashboard and you can see a dropdown list of all reports. Simply select the report that you want to view. Eventleaf provides more than 25 types of reports, depending upon the features you're using for your event. Here's a quick look at them and how to use them for the best results.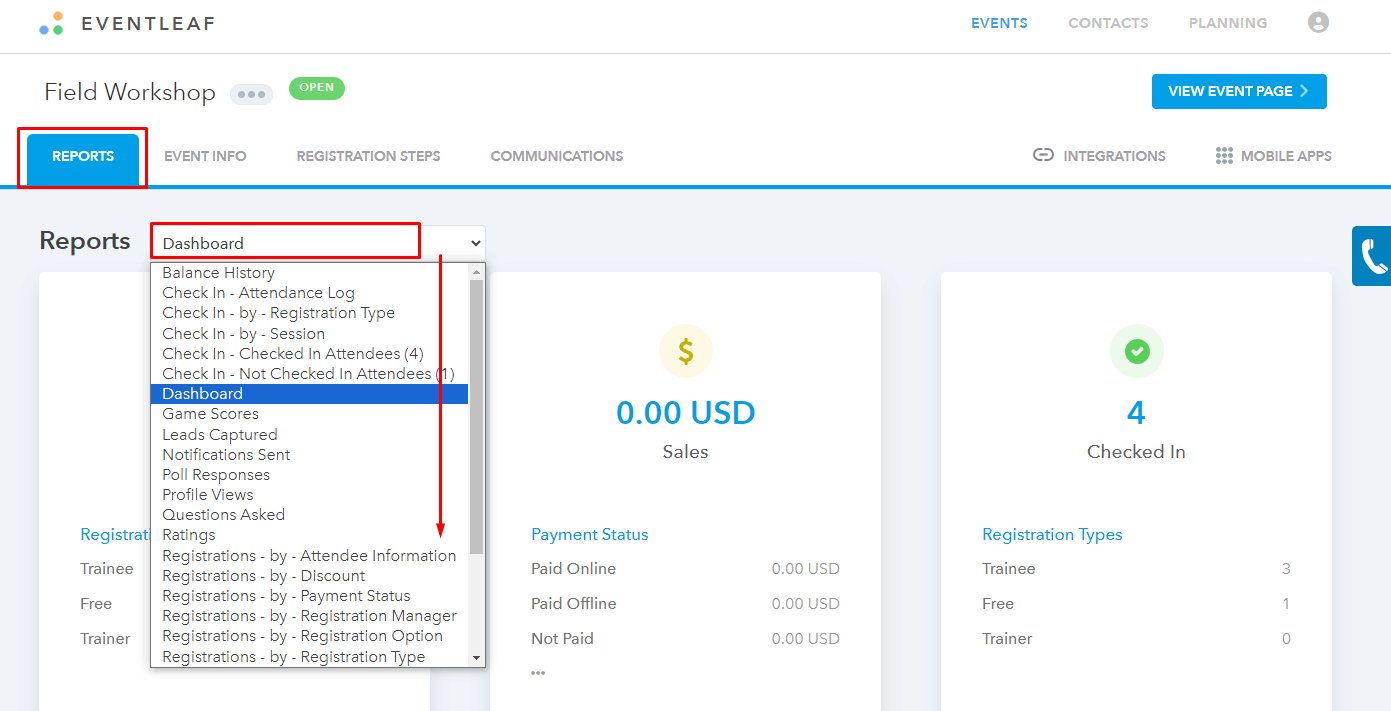 Balance History
The Balance History report displays a record of financial transactions related to your event, showing changes in the event's balance over time. You can use it to track ticket sales, refunds, fees and payouts.
Check In Reports
These reports allow you to view detailed attendance information for your event, providing insight into overall attendance, attendance by registration type, session attendance and more. This information will empower you to make informed decisions for future events based on the popularity of your various sessions amongst your attendee demographics.
Reports are updated in real-time, so attendance can be evaluated and remedial actions taken, if needed. For example, you can decide to send a reminder through the Eventleaf portal if the event time is approaching and many attendees have still not checked in.
To help managers easily track attendance, Eventleaf provides check-in reports by:
Attendance log
Registration type
Session
Checked-in attendees
Not Checked-in attendees
Engagement Reports
Attendee engagement being the top-most priority of event managers these days, Eventleaf boasts numerous engagement features such as gamification, live polls, Q & A, and ratings. You can use one or more of these features and view the relevant report to determine if your efforts are bearing fruit.
For example, if you're using Q & A, you can look at the Questions Asked report to find out if people are asking questions; and encourage them to interact with the speaker by sending them a notification. These reports can also be reviewed post-event to help improve your attendee engagement strategies going forward. Here are the reports that you can access:
Game Scores
Notifications Sent
Poll Responses
Profile Views
Questions Asked
Ratings
Survey Responses (available in Surveys section)
Leads Captured
This report allows you to manage leads that were captured by exhibitors using the Eventleaf Leads App. Exhibitors can also view their captured leads and export the data to their CRM for follow up and further processing using the Leads app.
Registration Reports
Registrations are fundamental to the success of any event. Eventleaf helps event organizers gauge their planning and outreach efforts by providing a snapshot of registrations. There are several ways to access the registration data including registrations by:
Attendee Information
Discounts
Payment Status
Registration Manager
Registration Option
Registrations Completed
Registrations Type
Registrations Pending, and
Import List (to import registrations from other event apps such as Eventbrite)
All you need to do is select the relevant report and the software displays all registration information neatly arranged in a tabular format. You can also export this data as a CSV file and use it with other event planning software, such as email programs and accounting tools.
Transactions
The Transactions report allows you to track all financial data one place. Click on Transactions from the drop-down list and you'll see a screen where you can select the transactions that you want to track, e.g. fees, chargebacks, refunds, adjustments, and more.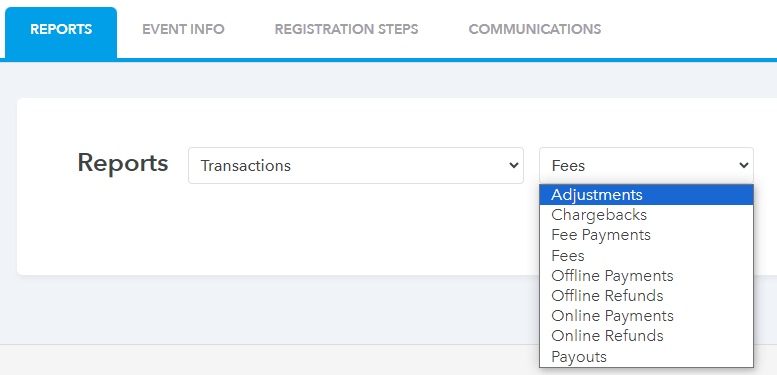 Statements
The Statements report includes links to your event statements, generated at the end of each month if your event had transactions during that period. Statements itemize transactions such as registration sales, fees paid and payouts, associated with your event during the month.
Why Track Eventleaf Reports?
Reports are the compass that help us navigate through the event's journey and find out if we're on track. They provide the insights we need to steer toward success. Here are a few reasons that make it vital to keep an eye on the Eventleaf reports.
Improved Decision-Making
Event organizers can make data-driven decisions, leading to more successful events. Insights gained from attendee feedback, registration data, and session attendance help in tailoring future events to meet attendee expectations.
Streamlined Operations
Our event software automates event management data, reducing manual tasks and saving time. Event reports allow organizers to focus on strategic planning and enhancing the attendee experience.
Enhanced Attendee Engagement
By collecting data on attendee interactions and behavior, organizers can personalize the event experience. This can lead to higher attendee satisfaction and engagement.
Increased Revenue
Eventleaf reports enable organizers to track ticket sales and revenue, helping them optimize pricing strategies and marketing efforts.
Conclusion
Eventleaf reports are a valuable tool for event organizers looking to streamline their operations and enhance attendee experiences. They allow you to view all event data including attendee registration, ticketing, check-in, transactions, and engagements on a single page, making it easy to measure performance and adjust your strategy.
By harnessing the power of data analytics, event planners can improve their events' success and drive better results for their organizations or clients.