To create a session Go to Event > Click Agenda > Click Add Session > Enter Session title > Enter Session date & time > Add
Go to Event

Click Agenda

Click Add Session

Enter Session title

Enter Session date

Enter Session start & end time

Click Add

Upon receiving successfully added message scroll down Virtual Session section
Under Virtual Session check "Allow attendees to attend this session online"

Enter virtual Session URL "Required" in case of a virtual session (Zoom link, Go to Meeting link, etc.)

Configure "Join Button" text label (this text will be shown in confirmation email and Guide app)

Enter Join instructions if applicable
Joining a virtual Session (3 options)
Option 1: Attendees Joining a session from web
Once registered, attendees can login to post registration pages through "Manage Registration" link received on Confirmation email > Click Agenda Tab > Click Join Session
Click Manage Registration

Click Agenda tab

Click Join Session
Option 2: Attending Joining session through Confirmation email
Attendees can also use Join Session links received on Registration confirmation email to attend sessions.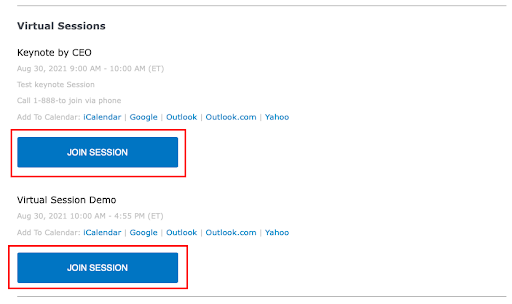 Option 3: Attendees Joining Session via App
On Mobile app:
Download the Mobile app – Eventleaf Guide app

Attendee to Login to the app using email address with which they registered for the event.
Login Process:
Enter registered email address (attendee email)

Enter Login password

First time users are required to create a new passsword.
While Logged In:
Once logged in search and access the Event

Click Agenda

Click applicable Session title

Click Join Session